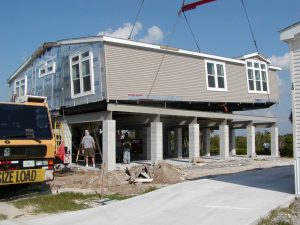 Your stilt home project whether constructed with a modular home or a manufactured home can utilize a variety of foundation designs depending on your budget, goals and desires. Do you want the area under the homes to remain wide open for a secured storage or garage like space or are you interested in adding additional living space under your new stilt home for entertaining as well? Regardless, Ocala Custom Homes can construct your foundation to accommodate your dream at an affordable price. Our expertise will help you with every facet of your project making it stress free and enjoyable.
Many people are unaware stilt home foundations can be constructed from a variety of different materials and configured with numerous designs. On and off frame applications with piers, piles or poured foundations are commonly utilized. We will incorporate your ideas into the design, determine the best application for your homes budget and offer a full turnkey package so you don't need to worry. We will manage 100% of your project.
Waterfront stilt homes commonly require different code/construction requirements than stilt homes that are not affected by wind and water. We have engineers who understand the local code requirements for your project and can make the design, permitting and construction of this type of specialized housing remarkably simple.
We can assist you from concept to completion for any application whether coastal or inland and help determine an economical approach to your project as well as determine if the property is suitable for your new home. Our staffs construction knowledge assures your home is designed and constructed to the highest standards available in the industry.
Please contact our offices to schedule a convenient time to discuss how Ocala Custom Homes can help with your dream stilt home.